I received a great reminder recently while I was at AdTech in San Francisco.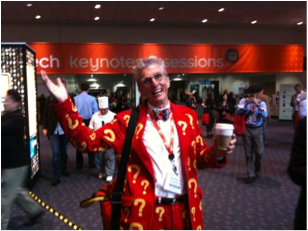 This guy was mobbed everywhere he went! Why? Because he is on TV!
I was immediately reminded of the Seinfeld episode where they are pitching the Show About Nothing:
Producer: "So why am I watching"
George: "Because it's on TV!!"
Here is the thing, and how this relates to Search Marketing. Search can't create demand. Think about that for a second. People search because they already have an idea or problem and are seeking a solution. Whereas other forms of traditional marketing are very good at creating demand. For instance, Advertising still creates demand. The opportunity then for search is to intercept that demand. If you are advertising, you must also have a powerful search strategy and here's why.
I'm really enjoying reading Vanessa Fox's new book: Marketing in the Age of Google. In the book, Vanessa makes (basically) the following points:
Of the 18 Billion searches each month nearly 12% are retail focused. 70% of product searches are for categories (digital cameras, washers)
For most searches, the home page is not the entry point. "Any page can be the entry page" "We have to rethink our approach to site design and user interaction based on the new world"
"Even those retailers who don't sell products online or who have substantial offline sales are still impacted by search." "Sixty three percent of search-related purchases occur offline" "In a webvisible/Nielson study, 82% of respondents said that they've used the Internet to find local businesses; 80% say they've researched a product or service online before buying it locally."
So here's the thing I wanted to test. How does traditional advertising impact search queries? From that: How does search marketing play a role in overall advertising strategy? Does Corporate Blogging?
Let me give you an example. Compendium has a client that spends a lot on TV and Newspaper advertising. You can literally watch the search traffic climb on the products that they feature in their advertising. Consider the ramifications here. Companies spend millions on Advertising…creating demand. Convincing me that I need this brand new flat screen Samsung TV with 5 hdmi ports…and LED. Do I rush to the store? No! I rush to Google. If company B shows up for that search, where do I buy?
Check out the following charts:


Notice the peaks? What do those peaks have in common? If you guessed Sunday you win the prize. Ok, consider this (although it may be obvious to you now) big retail invests millions of dollars every week creating beautiful, compelling enticements to buy new products. These go into our newspapers every weekend.
What these inducements clearly do is create demand for the products advertised. What do the readers of these Advertisements do? They do just what Vanessa Fox says they do…they go online and research the products that caught their eye. Not only the brands (you see spikes in branded searches too) … but the products themselves.
If these brands are not ranking on these product searches, didn't they just spend all that money to send shoppers into the arms of their competitors? About one million searches are done each month for [samsung led tv]. Not a single big brand shows up organically to help the consumer buy this product locally through a brick and mortar store. Who paid for the advertising…?
There are millions of searches that contain the term "washer" spread over hundreds of different phrases or queries. To Vanessa's point: "Any page can be the entry page" "We have to rethink our approach to site design and user interaction based on the new world". Businesses are looking at the scale afforded them through enterprise level blogging software. It's the perfect tool for thinking differently about SEO.
Targeted blogging about your products and services, coupled with your geography, use cases, specials and coupons help make certain you have the right organized content online to ensure you show up for the searches that you just spent a fortune creating demand for through traditional advertising.